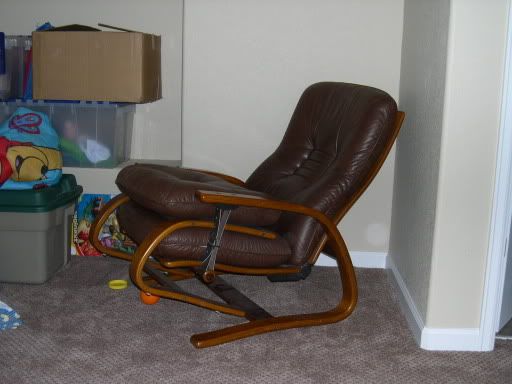 A Despised chair, nestled. Isn't it bachelor pad appropriate? Please note how fetching it appears in the playroom. It usually has piles of blankets and play cloths on it.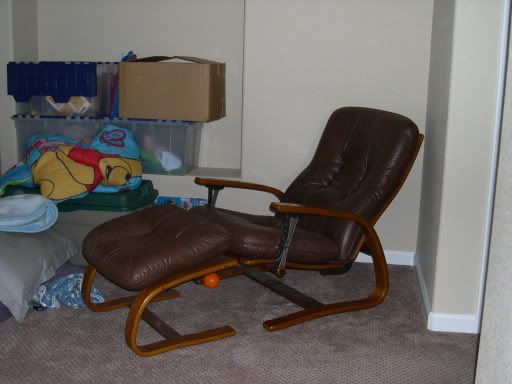 The ridiculously uncomfortable chair, with leg rest unfurled. Looks comfy, doesn't it? WRONG! This chair is guaranteed to give you a rib-wrenching backache in no time.
Sunset over the skeeter-breeder, to take my mind off that dreadful chair.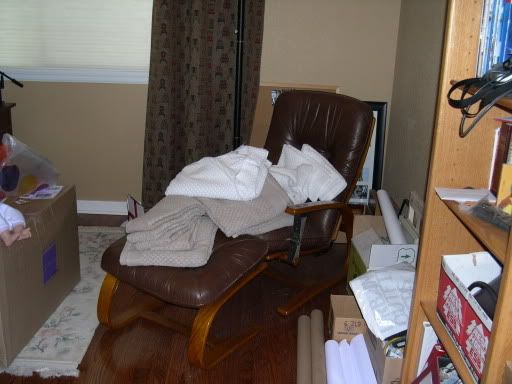 ACK! Here's it mate! Yes, in the 'library' ('it's a store room', she says in an embarrassed whisper) And - what's that - yes, it's oodles and gobs of towels, the ones recommended by
Joke
!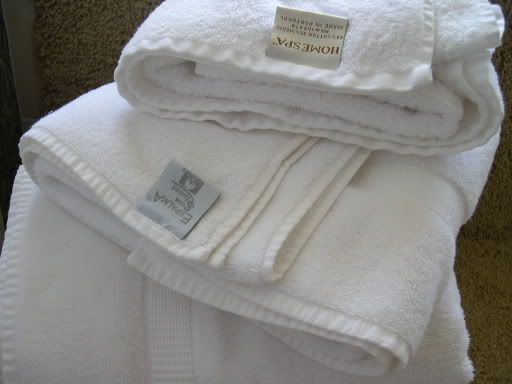 Why all the towels when we already have these, you ask! Because I'm tired of the boys using these wonderful Espalma and Home Spa towels. They now have their Very Own Sage-y Blue popcorn textured towels, thank you. Blackbird, note the wear on the Espalma. Not bad, when you consider that these 4 towels get washed at least twice a week, in very hot water sometimes. In fact, I am going to sew over the edges of the Joke towels so make them last longer. I think that's the key to towel wear - the edges wear long before the loop.
Yes, I'm posting a day early. Because look what happened last week when I waited! This was requested by
Blackbird
for
Poppy
.