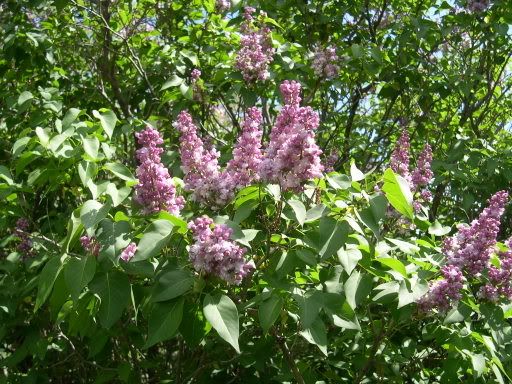 The boys and I went to my parents' today, about 40 minutes away. It rained hard last night, and the air was clean and heavenly, perfumed with the lilacs from my parents' yard.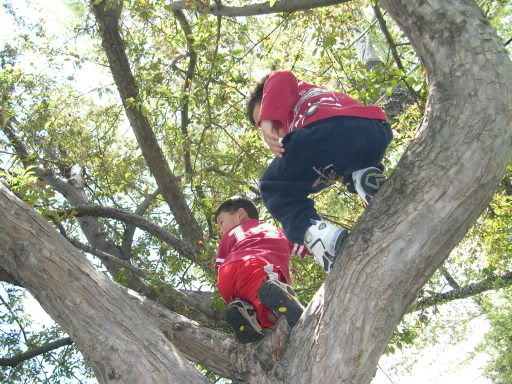 The boys climbed their first tree today - an old crabapple in my parents' yard. Perfect for 4 and 5 yos - not too difficult, but plenty scary with shaky-knee descents, grabbing at twigs v. branches and windmilling to keep their balance when the twigs swung out with their pulling, and just enough altitude to keep us vigilant. A 'handy' cement bird bath placed directly under the tree gave the boys a target to avoid, should they lose their footing, but did we move it?! HELL NO! What did we yell to make sure they knew what was precious? "You fall and break that bird bath and Nana is going to be furious!"
We saw little bunnies out for their daily 'dusting'; rolling back and forth in mounds of dirt in the flowerbeds, their big thumpers flopping around, but a quick toehold always a possibility should escape become necessary. Fat robins took leisurely baths in the bird bath. The flickers and doves showed off their plumage in their sunny ascents while searching for The Perfect Twig or String for their nests. And two little boys exercised every aspect of my parents' yard; ancient 1960's swingset, hills, big patio to ride welded-together-but still-broke trike, Hopping Ball, Tony the Pony (spring horse with plenty of OOMPH left in him), and numerous games of their own invention. What might have been a quick visit for lunch turned into a wonderful, lazy afternoon.
And I got a lovely surprise at home, too; neighbors called me over to come split some vegetables (you know, you go to Costco and buy stuff, and you have plenty for 4 families). I trotted over, with a bag, and the mom and daughter were waiting with big smiles.
And this: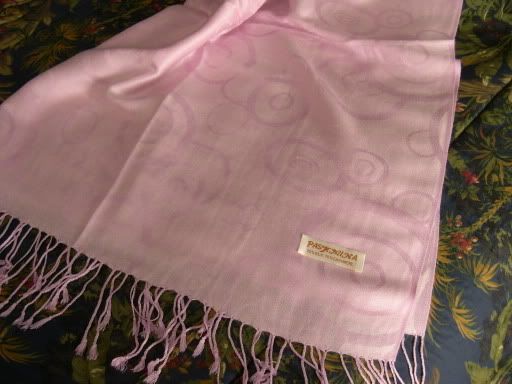 It's a Pashmina! After admiring Blackbird's mother's lovely blue pashmina in her shopping trip photo extravanganza a while back, I was extremely excited to receive one of my very own. And -- in a GIRLY pinky purple! My sweet neighbors said "This is for being a wonderful neighbor." Ah, they got me with that one. My eyes welled up with tears -- this was completely unexpected and very much appreciated!
And, here's my favorite shot of the day: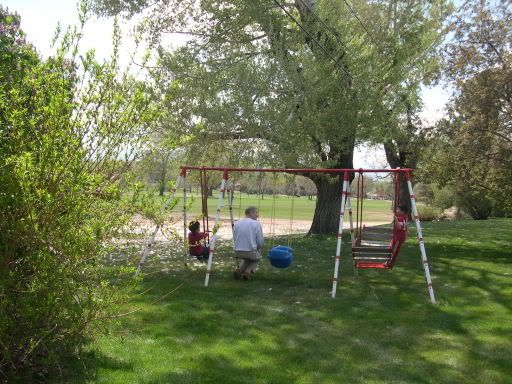 The boys and their PopPop. Oldest is leaning out in the glider way to the right. Youngest is on the left, and my dad is in the middle. They still ride in the baby swing, too.
My parents and I spent a wonderful day, gazing at my sons and wondering how I got so lucky. Twice.
Today was sweet. Very much to be savored and remembered.