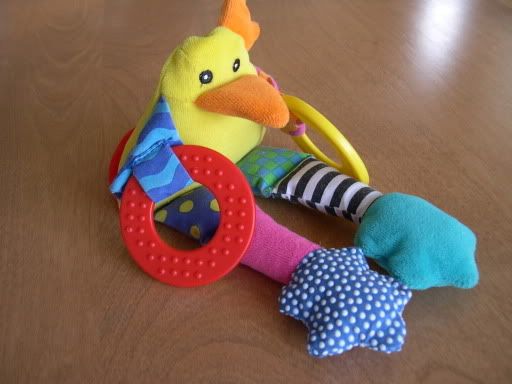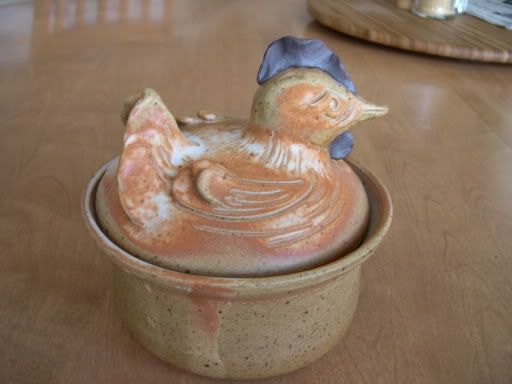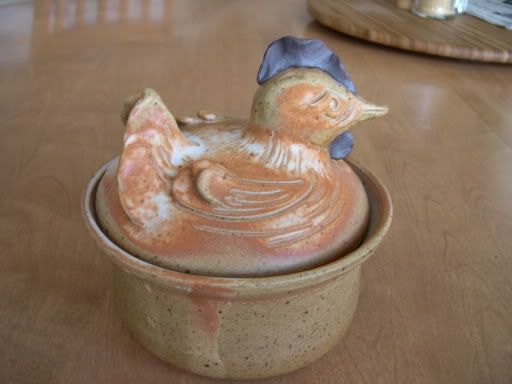 I don't know what blogger is doing.
Anyway, the first photo is Early Bird - Youngest's baby toy. I sent it to him in S. Korea while we were waiting for him to come home, along with dozens of sweet baby outfits. None of which fit him! He was A Moose. His lovely Foster Mother never said a word about the tiny clothing that never fit him. She sent him home to us, carefully packing his beloved Early Bird, his Blankie that I had made and more than a few gorgeous Korean-made cotton outfits that fit him for many months. Lovely padded and lined winter outfits, that were perfect for our cold winters. She continues to send him very lovely things.
The second photo is a Chicken, all right. He is a Hot Dip Chicken. Since I don't many Hot Dips, or casseroles of such a small stature, this Chicken resides in a top shelf of the cabinet. He used to hold coins out on a mud room counter. Now Spare Change is plucked from Daddy's pocket and run upstairs to Piggy Banks in hot little hands. So Hot Dip Chicken rests with other things that are being safe from little hands.
Edited:
Okay, Youngest's chicken is Earl E. Bird not Early Bird. Thanks for the email.
Hot Dip Chicken is my own moniker for the small tureen. He arrived with a half dozen recipes, all of which were essentially heated dips. Like artichoke, 4 cheese, blue cheese, bean, vegetable and an Asian flavor one which was delicious. I have lost all the recipes, unfortunately.